Blister Sealer
YNN

China

5-35days

50 sets/months
Feature:
1. Turntable style, three working positions.
2. Using high Q oscillation value is installed in this machine which is stable and reliable in output.
3. Blister Sealer is equipped with high sensitive spark depressing circuit is used for preventing mold damage.
4. The rotating-plate, pusher-tray structure of Blister Sealer can improve the production effectively.
5. The cylinder propping positioning gadget can make precise position of turntable.
6. Blister Sealer is made of a whole set high-quality imported components.
7. Capable of prearrangement, reliable and stable in output.
8. Optional position 3-6, working more efficiency.
Blister Sealer Introduction:
1. Blister Sealer is imported Cube Drum H.F. System, Powerful output;
2. High Q-value oscillation Tube, Stable and reliable output;
3. Imported "5557"or "2D21" High sensitive spark preventer protects dies;
4. Revolver working stage increasing productivity;
5. Cylinder locating device of Blister Sealer make accurate location
6. Key Imported parts and components
Blister Sealer Advantages:
The advantage of High Frequency sealing for blister packaging is the strength of the sealed flanges. The heat builds up evenly, in a very controlled way, from the inside of the plastic and the dosage of energy can be set very accurately. High Frequency sealing is also called Radio Frequency sealing. HF / RF sealing creates a bond that is equal or greater in strength than the material itself. The seal is consistent, nearly clear and uniform in appearance.The principle of High Frequency sealing is based on electro-magnetic heating of non-conducting materials such as plastics. During the sealing process, the plastic layers are joined under light pressure between electrodes that are connected to a high frequency power generator. The molecules in the plastics start to vibrate and this vibration heats the plastic up to a temperature where the welding of the two layers takes place. The changing polarity of the HF waves passing through the plastic generates heat - just the right amount, very quickly. After the sealing cycle, the HF energy is shut off while the equipment holds the plastic sheets together for a very short time to cool under pressure.
Full automatic line of Blister Sealer is available: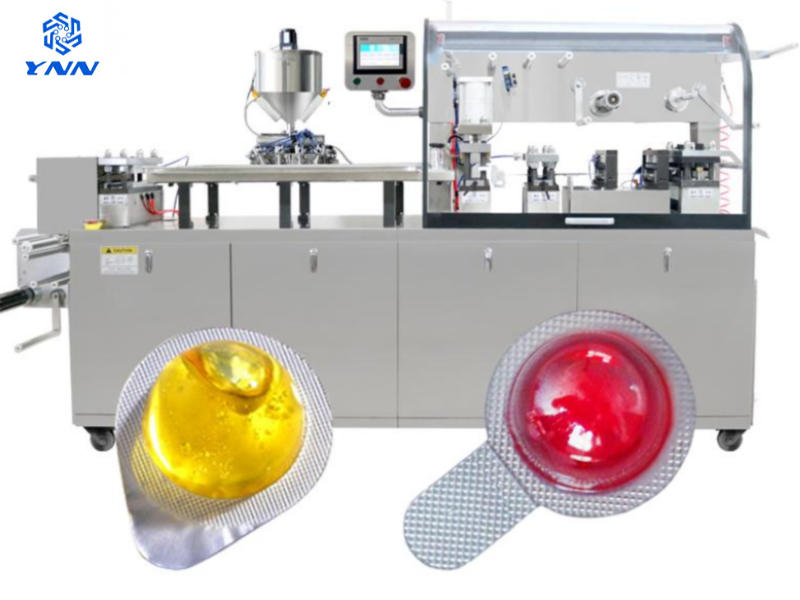 Liaoning YNN Technology Co., Ltd is a manufactuer of fruit and vegetable processing equipment, pharmaceutical and chemical processing machine, etc. We provide customers with design, manufacture, installation, commissioning, and other service. Our main products are industrial machine, paste mixing machine, filling machine, packing machine, capping machine, blister machine, labling machine, drying machine, filter machine, spraying maching, automatic soap machine, etc. We have strict quality control system, and carefully produce each piece of machine. Our machines are good, stable performance, long service life, It has been widely recognized by customers. Our products are exported to Southeast Asia, Europe, Africa, The middle east, America, Australia.